Do you feel self-conscious when you smile? Do you cover your mouth with your hand when you're speaking?
Beautiful porcelain veneers designed by Chattanooga Family Dentistry can bring a smile to your face that you won't want to hide.
How can patients of our Chattanooga, TN, practice benefit from veneers?
Porcelain veneers enhance teeth that are ...
What Is a Porcelain Veneer?
A veneer is a thin layer of medical-grade porcelain that is bonded to the front surface of teeth, immediately transforming them to create a more symmetrical and attractive smile. By using porcelain veneers, Dr. Andrew Lunn can alter the color, size, shape, and texture of each tooth to create the smile you've always wanted.
He has decades of experience, and his dedication to detail along with his understanding of the artistic side of dentistry allows him to craft veneers that hide imperfections while complementing your natural features.
Meanwhile, porcelain veneers can do more than change the appearance of your teeth. They can also correct bite problems if you have an issue such as a chipped tooth. Veneers can also cover large gaps between teeth. In many cases, patients with minor alignment issues choose this solution as an alternative to orthodontics in order to achieve a straight, symmetrical smile.
During a consultation at Chattanooga Family Dentistry, Dr. Lunn can determine if veneers are right for you.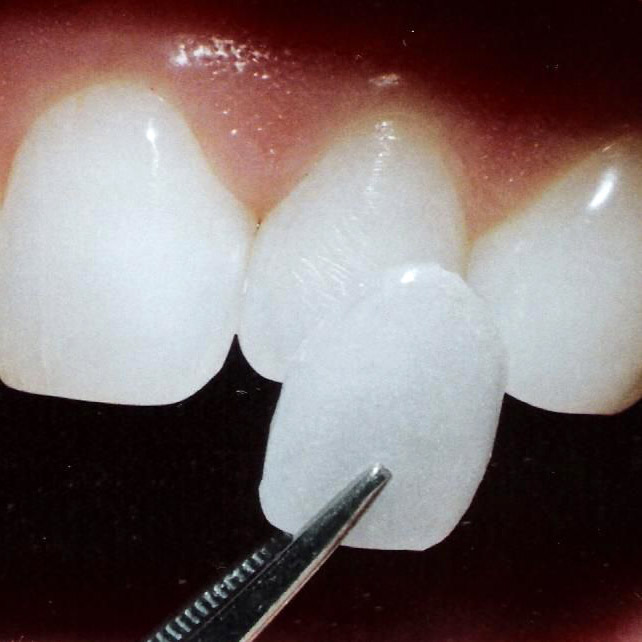 "One of the best dentists."
I have been to many dentists all of US and This one is my favorite. The staff is amazing and my appointments start on time every time. Dr Lynn is wonderful and does great work.
View On Google
One of the best dentists and the best staff. We actually look forward to seeing everyone there and I don't really like going to the dentist. Very particular about the care they provide and are very concerned about their patients. And you've got to meet Winston!
View On Google
Why Are Veneers So Popular?
Many patients turn to porcelain veneers because they:
Are durable and stain-resistant
Mask stains and discoloration
Are customized to fit your one-of-a-kind smile
Can reshape and lengthen teeth
Yield immediate results
Can last 10 or more years with proper care
Will People Know?
Veneers have come a long way from the bulky and unnatural-looking restorations of years past. Advancements in technology have made dental veneers more lifelike and versatile than ever before.
The new types of porcelain used to make dental veneers have made them stronger and allow them to reflect light much like natural teeth. Today's porcelain veneers are nearly indistinguishable from your natural teeth.
Meanwhile, the natural shade selection that Dr. Lunn uses makes the transition from your veneers to your natural teeth appear seamless.
If needed, Dr. Lunn can offer additional dental treatments, such as teeth whitening and dental crowns, to offer a more comprehensive transformation. In fact, a complete smile makeover can be an excellent choice for those who want to achieve a dramatic upgrade in their smile.
We go the extra mile by working closely with select dental labs to create beautiful cosmetic results for people with all types of needs.
Are You Ready for a New Smile?
When it's time to quit hiding your smile, Dr. Lunn and everyone at Chattanooga Family Dentistry offer you the high-quality, patient-centered care you have been looking for.
Dr. Lunn is a leading provider of custom-designed porcelain veneers in Chattanooga, TN, and has earned hundreds of 5-star reviews.
Plus, everyone at his practice takes special care to ensure your comfort. We have Bose® noise-reduction headphones, scented candles, and warm blankets to help you relax.
We also pride ourselves on building lasting relationships with patients through honest, straightforward communication about their oral health.
Learn how beautiful your smile can be. To schedule a consultation, contact our dental practice online or call
Dental veneers can generally be placed in just two visits to our practice:
"The therapy dog is the cutest!"
I'm scared to death of then dentist. Always have been since I was little, but they made me so comfortable. They walked through every step and he was more concerned about his patients being comfortable, healthy, and happy. And they're therapy dog is the cutest!
View On Google
Great overall experience our family has experienced nothing but professional service and great value during our visits to Chattanooga Family Dentistry
View On Google
If a patient has tooth decay, gum disease, or other oral health issues, these problems must be addressed first. We can provide any necessary preparatory treatments in-office.
In addition, if you grind or clench your teeth, you may not be a good candidate for veneers. While dental porcelain is quite strong, the forces exerted by bruxism can cause veneers to break or come off entirely.
In many cases, we can treat the underlying causes of bruxism, such as temporomandibular joint disorder (TMJ), allowing you to receive veneers.
The best way to find out if you are a good candidate is to schedule an appointment with Dr. Lunn, who has years of experience creating custom porcelain veneers.
How Do I Care for Veneers?
You take care of veneers just like you take care of your natural teeth. Keep in mind, veneers can be damaged by:
Crunching on ice
Biting your fingernails
Chewing on pens or other hard objects
Tearing open packages with your teeth
Although veneers are strong, they will need to be eventually replaced.
Are There Other Options?
Some choose dental bonding (sometimes called composite veneers) instead of veneers to treat aesthetic concerns with their teeth. This option involves applying tooth-colored resin to your teeth in order to cover imperfections. It is less costly, but in some cases, this solution may not be able to provide the results you want. If neither of these solutions can conceal the imperfections you wish to address, a crown may provide a solution.
Dr. Lunn provides each of these cosmetic options, and can help decide which is best for you.